Yoga provides immense benefits known to almost everyone globally, but the benefits of a couple's yoga may not be known to the entire world. Couple yoga is a powerful program to improve your relationship with your partner. It will help you to build a strong foundation in your relationship. Let's discuss some of the compelling reasons why one should try a couple's yoga session.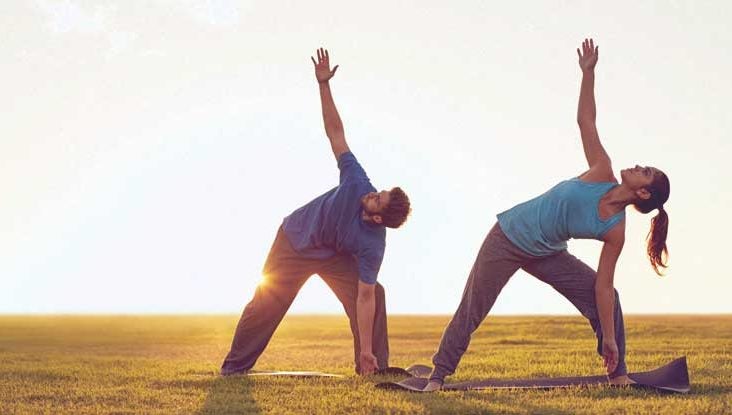 6 Reasons why you should consider giving a couple's yoga a chance: 
The existence of warmth and affection in a relationship is essential so that it does not feel like you are in a dull relationship. Touch is an intrinsic part of couples yoga. While practising couple yoga, you need to support your partner in holding a specific posture. Physical touch will set fire to fondness towards each other
It is vital to spend time with your partner in a fast-paced world, and a couple's yoga can allow you that time. Couple's yoga reduces the distance between the partners and brings them closer so that they can bond well
To have a healthy relationship, it is essential to give up on your pride and egotism. Pride, egotism are factors that affect the communications between partners. Couple yoga will help you overcome this barrier and help you communicate with your partner more freely
Being in a relationship may involve many responsibilities that can bring stress and anxiety and affect the relationship's quality. Couples yoga helps the partner eliminate stress, tension, and anxiety, which will help them spend the day in peace and harmony
Practising couple's yoga increases intimacy with your partners. Researchers have proved this fact true. Couple yoga can bring the spark in the relationship, which will substitute a mundane routine with your partner
Most of the posture you practice in couple yoga, you need to support your partner partially or fully. You have to depend on your partner to hold the pose correctly. This helps partners build strong emotional support for each other
These are some of the significant reasons which are most focused on when people talk about the couple's yoga, but there are many other reasons which make the couple's yoga valuable. Anyone can easily take part in couples yoga by signing up for a couples yoga class beginner classes. These online classes have gained massive fame in recent years and are deserving of credit. The availability of online yoga classes has made it easier for practitioners to practise yoga at their convenience. Schedule your course whenever you are comfortable and choose from a wide range of options. Online classes provide a wide range of options because there are hundreds of forms of yoga, and with online classes, you explore a lot of them. 
Online couples yoga classes are abundant on the internet, so you can find a good fit yoga class for you with just a few clicks. Staying in a healthy, happy relationship can bring in many positive changes in your life, and if that can quickly be achieved by practising yoga, then every couple should give it a try. Many couples who have enrolled on such a couples program have agreed that it has helped them improve their relationship. Even if there is no struggle in your relationship, you can still give couples yoga a try because a bit more blissfulness is never harmful. Start your yoga practise today, and within a month, you will forward to see your partner and mat together. Like once, one wise man said that the journey is more beautiful than the destination, so make sure you try out a couple's yoga.